Coco Bay Estates Benefits for our Club Members
The Club at Coco Bay is so much more than your traditional community beach club. We are the heart and soul of Coco Bay's residential and vacation community. The place where all of our members and seasonal renters come to socialize, get healthy, network, and enjoy great food.  
The Club at Coco Bay's facilities are designed to celebrate Costa Rica's fabulous climate and tropical beauty.  The grounds are carefully landscaped to highlight shade-bearing native trees and a rainforest stream that winds through the gardens providing a sense of tranquility and cool breezes. 
Our world-class premises offer eight professional Pickleball Courts, 2 tennis courts, a state-of-the-art fitness center, a professionally-equipped conference/meeting room, a bilingual concierge service, and the renowned Sugoi Restaurant serving Mexican & Asian Fusion Cuisine.  
The facilities at Coco Bay include a sweeping freeform swimming pool, swim-up bar, kids pool & waterslide, as well as our yoga pavilion and, as mentioned above, our lighted tennis and pickleball courts. 
Club Members are welcome to invite friends to enjoy them at The Club at Coco Bay in Playas del Coco, Costa Rica, through the purchase of a day and or monthly passes.
The Club at Coco Bay Membership Benefits: 
The Club at Coco Bay Members enjoy a wide variety of perks and services. Being a Club Member allows for discounts at restaurants, like Sugoi and discounts at amazing Eco Adventure Parks, like Diamante.  We provide our members with the opportunity to experience the best of Guanacaste right here in their backyard. 
In addition to enjoying our facilities, including the yoga pavilion, fitness center, swimming pool, and pickleball courts and tennis courts, members have access to the following extras:   
Membership Discounts
10% discount at Diamante Eco Adventure Park: Diamante Adventure Park in Guanacaste is Costa Rica's premier multiple-attraction venue for the whole family. In addition to having Costa Rica's longest ocean view zipline and a beach-view Superman zipline, they offer Guanacaste ATV tours, horseback riding, and a renowned wildlife sanctuary with the country's largest collection of species indigenous to Costa Rica to include sloths, jaguars, toucans, monkeys and more.
10% discount at Sugoi Mexican & Asian Cuisine: The Club at Coco Bay's signature restaurant, Sugoi, is the perfect place to celebrate another glorious day in Costa Rica with family and friends. Sugoi offers fresh Mexican and Asian favorites with a fusion twist. Don't miss their exquisite tableside Tepanyaki options. Indoor and garden seating is available. Parties and events are welcome.  
Ocotal Beach Club
The Club at Coco Bay Members have private access to the ocean-front Beach Club in Ocotal. The club's facilities include a delightfully large infinity pool overlooking Ocotal Beach, sun loungers, showers, and a clubhouse with bathrooms and changing facilities. 

Ocotal Beach Club can be reserved for special events and celebrations. Speak with the Club at Coco Bay concierge for details.  
Pickleball & Tennis
Our Club Members are huge fans of our pickleball and tennis facilities. It brings them together for a sense of community while playing in open play, clinics, drills and tournaments. We've equipped our courts with highly efficient lighting so members can enjoy playing from 6:00am – 10:00pm, seven days a week.

Drop-in Pickleball & Tennis: Have fun and meet other members during our drop-in Pickleball and Tennis open plays. Check with the club concierge for hours. Drop-ins are usually held three to five times per week during morning and early evening hours. 

Tennis & Pickleball Clinics: We offer Club Members access to professionally coached tennis and pickleball clinics for an additional fee. Meet the experts and brush up on your game with other members.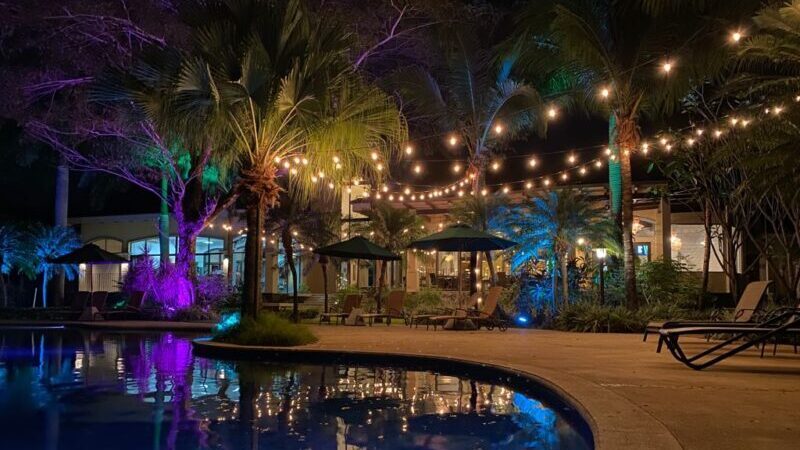 Special Events
Let the Club at Coco Bay experts make your next birthday, anniversary, wedding, or company event in Costa Rica a celebration to remember. We offer event planning, hosting & catering and can assist with lodging logistics for your guests.

The Club at Coco Bay- it's definitely the place to be!